Halloween projects are in full swing here in the D household!  I am so excited to be participating in the Martha Stewart Crafts Halloween project with Blueprint Social.  I could not wait for my box of Martha Stewart Paint products to arrive.  Seriously excited.  So much so that I was gardening when the delivery man brought the box and I literally ripped it open and spread the amazing box of supplies out on the front lawn.
I decided to make the ever popular home decor starburst mirror but with a Halloween twist.  I purchased a round mirror and wood dowels at my local craft store.  I used the 1/8 inch variety of dowels for this project and an 8″mirror.
First thing that I did was paint the dowels. I chose to use 16 dowels and I painted them in the Martha Stewart Metallic Paint in Gunmetal.  Then I wanted to give it a bit of sparkle.  So after the dowels dried I painted them in the Martha Stewart Multipurpose Glitter Paint in Obsidian.  I ended up doing two coats of the glitter paint for added bling.
I like to use a styrofoam block to hold the dowels while they dry.
I decided to use the Martha Stewart Adhesive Stencils in the holiday patterns to create a group of spiders on the mirror.  Using the Martha Stewart Metallic Opaque Glass Paint in Black Nickel I applied the paint with the Martha Stewart Pouncer.  Then to add a bit more depth I used the Martha Stewart Glass Paint in Fine Glitter Translucent Obsidian.  I love me some sparkle!
I love the adhesive stencils.  They stick right to the mirror.  You pull them up immediately after applying the paint.  Then you rinse them off.  The paint comes off, and once they dry they are ready to use again!
After everything had dried and set, it was time for assembly.  I placed a towel on my table before placing the mirror face down as to not scratch it.  Then I hot glued all of the dowels into place.
Using black eyelash yarn I then created the web.  I just tied the yarn around each dowel and then used a dot of hot glue to hold it in place.  Finally I hot glued a loop of ribbon to the mirror to serve as a hanger.
Here is my finished project!
It is right in my entryway when you come in the front door.
I love seeing the spiders crawling across the mirror as you look at your own reflection.  My son loves touching them, he says they look 3 dimensional, as the mirror reflecting on the bottom with the painted spiders on the top gives them a depth I didn't expect.
This was a fun project and truly not that difficult to do.
Be sure to check out the full line of  Martha Stewart Crafts Paint and supplies by Plaid available at Michaels.  Or visit Plaid onTwitter Find my post disclosure here or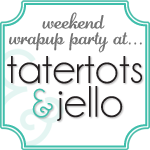 !
See more fabulous #MarthaHalloween projects from my fellow crafters!