You Rock Cupcakes & Wilton Review Giveaway (ends 2/22)
I always love to try to come up with celebratory treats that are "boy friendly".  Meaning that my boyz would not be pleased if I sent them to school for a Valentine party with cupcakes covered in flowers and hearts.  I wanted to come up with a fun cupcake that they would be excited to take with them, so I came up with these!
I received a box of great Wilton cupcake products recently and I've already shared with you my Social Media Cupcakes I made with the square cupcake pan and liners.  So when I was on my quest to make my boy friendly cupcakes I looked to my box of Wilton goodies for inspiration.
These were the things that spoke to me.  The Two Tone Cupcake Pan Set, Two Tone Cupcake Pan Set and Watercolor ColorCups Baking Cups.  I thought that the Sugar Gems reminded me of rock candy, and then I was inspired by those "You Rock Valentine" with the rock candy.  I decided to make a cupcake version.
Again, I wanted to shy away from the pink of Valentine's Day so I went with blue.  To make the Two-Tone cupcakes I colored part of the batter blue with my Wilton Gel colors.  Then I put the Colorburst Batter Bits in the plain batter.
The Two-Tone Cupcake Pan was incredibly easy to use.  You fill the containers while the plastic piece is in it, then pull up and it stays separated!
Be sure to remove that plastic helper before baking though!   Here are mine headed into the oven.
Once they were cooled I decorated them.  I cut out guitar silhouettes using black fondant the night before and added the blue heart.  I let them dry overnight.  This stiffens them so you can use them as a topper.  I then added the lettering using a size 2 tip.
For the icing I used the Wilton Buttercream recipe and then topped using my favorite 1M tip in a bakery swirl on top.  Then I liberally sprinkled with the blue Sugar Gems.  I also used the Watercolor ColorCups Baking Cups.  Don't you love how bright they stay even through baking?
The Sugar Gems are incredibly cool.  I love them!.
And I absolutely love the surprise inside the cupcakes…
How cool, the two tones and the batter bits make for a pretty rockin' cupcake I think!
Valentine cupcakes my boyz are excited to bring to school!
Okay, and now it is time for the HUGE Wilton Cupcakes Giveaway!  I absolutely love when I get a box full of Wilton goodies to try, and I am sure you will too.  One lucky reader will win a box with all of these items:
Watercolor ColorCups Baking Cups
Watercolor ColorCups Baking Cups
Watercolor ColorCups Baking Cups
Black and White Square Baking Cups
Sweet Dots and Stripes Standard Baking Cups
Sugar Gems in Pink, Green and Blue
Sugar Gems in Pink, Green and Blue
Wow!  That is over $100 ARV in Wilton Cupcake merchandise!  I am so excited to be able to give away such an amazing prize pack, and proud to be a Wilton Mom Ambassador.
Enter using the Rafflecopter widget below.  It may take a minute to load!
a Rafflecopter giveaway
I'm linking up here: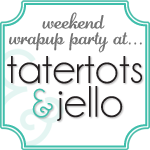 I am a Wilton Mom Ambassador and received all of the above mentioned products without charge for the purposes of this review.  All opinions and experiences expressed are my own.