Minecraft Creeper Cupcakes
My third son, affectionately referred to in these parts as Nate the Great, turned seven on Friday.  As with all of da boyz birthdays, they get to choose whatever it is they would like for cupcakes for their class.  Also, as with all boyz around his age (and even much, much older grownups *cough*) he is wildly into Minecraft right now.
So I was tasked with creating Minecraft cupcakes.  I was still super excited about the square cupcake pan I had received from Wilton and I realized that they would work perfectly for the pixelated creations that are Minecraft.
For this project I used the Wilton 4 Nonstick Brownie Pan, 12-Cavity
, one package of Wilton Pure White Rolled Fondant, 1-Pound 8-Ounce
and a package of black and white square baking cups .  I also recommend the Wilton Fondant 9 Inch Rolling Pin
to work on these smaller cupcake projects.  It makes it so that you are pretty much playing with edible play doh for adults.
To make the creeper face pictured you need 25 cupcakes.  I know, 24 is much easier and only requires one box of mix and two sets of cupcakes made in the 12 cavity pan.  But to make a square, and to make one large enough to feed a class, one must go with 25 my friends.
After the cupcakes have cooled, ice with buttercream frosting.  Especially since there are many who do not enjoy the taste of fondant.  This allows them to peel off the fondant topper and enjoy a regular frosted cupcake.
Then grab your white fondant and color it lightly green.  Roll out and cut out five square toppers, you can actually use the cupcake pan and lightly press and then cut out around those lines.  Add a bit more green and cut five more, a bit more green, cut five more.  Cut, color, repeat.
Finally you want to color and cut three black squares.  Then cut out two black squares.  With one black square cut it in half, placing half of the black on top of one green cupcake and the other half on another.  With the remaining black square cut it in half.  Then cut it in half again length wise on one section and width wise on another.
This will leave you with two square quarters and two long strip quarters.  Place the square quarters in the bottom right of one cupcake and the bottom left of the other.  The remaining strips should be placed on opposite sides of one green cupcake.
Position the cupcakes as so:
The best thing about using these square cupcakes means that you have created an easy cupcake cake that can be pulled apart to feed the class.
Nate was so very happy with the results!
Super happy!  And momma was happy because these were quite literally the easiest class cupcakes I have ever had to do!
I'll be linking up here: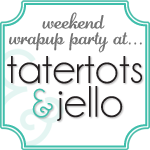 I am a Wilton Mom Ambassador and as such have received Wilton products without charge.  All opinions and experiences expressed are my own.